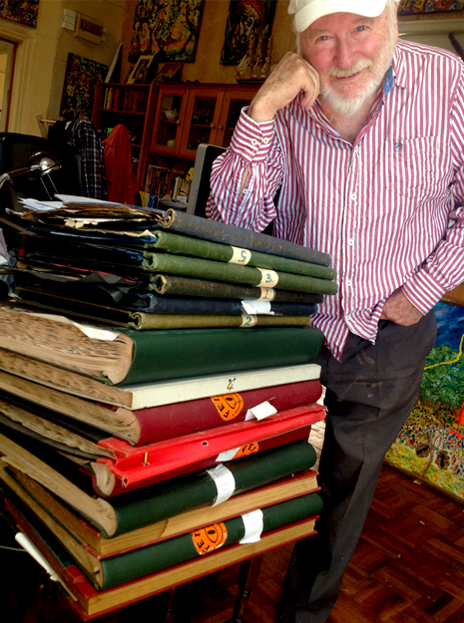 Personal articles of one page or more only.
Big Beat Magazine 64 pages 'The Planet Story." Sept 2013 to June 2014. Dec 13th 2010.
"Bob King Crawford." The Observer. 2 pages, Dec 15the 2010.
"Lingo Lesson returns". Full page. Nov 2008. Bayside Leader.
"The King and I " 3 pages. Rhythms Magazine. JULY 2001
"Music Men". Front plus. Bayside Adv. 2 pages. Nov 18th 1999.
"Their Hanging Ned Again". Australasian Post. Nov 1995
"Rhyming Ned." Australasian Post. 2 Pages.
"Helping History Stay Alive" Weekly Times. Nov 28th 1990.
"An Artists Tribute to Eureka." Bayside Times. Nov 21st 1990.
"Robert King Crawford". Tempo Magazine. 3 pages. Nov 23rd. 
"Eureka condensed into 90 Minutes of Emotion." Front page plus one. Ballarat Courier. March 12th 1985
"A golden Touch in the World of Entertainment." The News Advertiser. March 13th 1985.
"Eureka to Music". Ballarat Advertiser. March 11th 1985.
"Free cheers for King Bob." Herald. Jan 24th 1985. 
"The greatest free show on Earth". Australasian Post. 2 Pages. Nov 1982.
"Grand Ole Opera." Front and page 2. Across Country. August 1982.
"Now FEIP is 10" . Centre spread. Sun Newspaper. March 4. 1982.
"Country Music in the Parks." Across Country. 2 pages.
King Crawford and his Monster. The Age. 2 pager. July 14th 1981. 
"Mr. Entertainment". People Magazine. March 1981.  
"The King and I " Across country Magazine. Nov 19th. etc. etc.
All tens of thousands of smaller articles in scrap books and checkable.