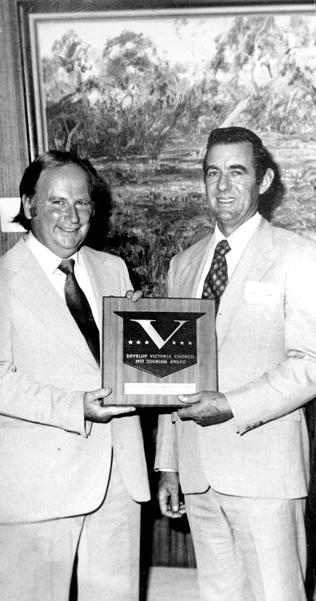 Some of CRAWFORD'S QUICK BITS.
1. Public Relations man - in one 22 week season alone he gained 12 different front pages of Melbourne city major dailies, with over 45 page 3's. Continuous public relations drive being probably the most impressive on record covering thousands of photos and stories by the daily press. T V. magazines, etc, etc.
2. Produced the World s first 12" Rock and Roll album.
3. Produced first commercial cover for an album.
4. Produced first Rock Party album.
5. Produced the first Art cover for LPs in the world.
6. Produced the most sought after art cover in the world (Elvis).
7. Wrote the first all Australian instrumental album by an Australian composer.
8. Fastest composed album (instrumental) by anyone in the world.
9. Writes Australia's first all instrumental album in Australia.
10. Composed Australia's first full length ballet and gained world copyright.
11. Produced first organ symphony for a ballet.
12 First outdoor premier of a major Ballet and largest audience.
13. First ballet produced on his mobile theatre invention.
14. Wrote first lyrics, music and story for musicals for Australian television (ABV2).
15. Wrote first lyric and music album by an Australian Composer.
16. Invented Talk a Story Jazz'.
17. Presented first live Aboriginal Jazz.
18. Created the first Aboriginal catwalk of new fashion.
19 Recorded and wrote Australia's first Children's album.
20. Designed the first indigenous flag.
21. Wrote, and recorded with his cast, Australia's first political satire album.
22. Wrote and recorded with own cast first satire on overseas personalities.
23. Wrote first Australian best selling comedy album - 7" EP.
24 Wrote and recorded with own cast the first 12" LP comedy album later released released by other Companies.
25. Wrote and is featured on the first Australian lingua phonic type album.
26. Wrote the longest published ballad in the Southern hemisphere.
27. First to reproduce the original Australian national flag in over 100 years.
28. Produced more Football songs than any other known composer in history.
29. Co-wrote with Doug Surman the greatest musical epic to Australia in history - 'This Is My Country'.
30. Created the biggest outdoor free festival series in history.
31. Compered over 2000 shows.
32. The most recorded Australian composer for the 50s.
33. - the 60s.
34. - the 70s.
35. - and the 80s.
36. Many of the above are in the State archives, with copies compiled on Lyric by Geoffrey Orr.
37. Created the tourist attractions of FEIP for the State of Victoria, winning tri annual GOLDEN Tourism awards (3 years twice) as the State's most important attractions..
38. Produced the first major show as a tribute to an overseas star funded by Government. Audience over 100,000.
39. Presented a major Russian overseas performing company for the people for one exclusive show and flown out at no cost.
40. Wrote first Australian Blues music recorded by an Aboriginal vocalist. Album winner of the National Sound and Film awards.
41. As a vocalist recorded the first indigenous protest song.
42. Presented the world's biggest dance.
43. Wrote and produced the world's first musical album with an acting cast. Wrote and produced the most expensive album then produced In Australia.
44. Created the first Special Delivery service in Australia.
45. Produced first Aboriginal Expo.
46. Created the first major jazz production 'The History of American Jazz' featuring a huge cast.
47. Recorded the first modern sounds of country.
48. Produced more than 400 festivals.
49. Produced Three festivals to revive the C.B.D. for the Retailers Association.
50. Produced world's first triple play EP.
51. Composed opening and closing music for city statue dedication and various opening and closings of world events.
52. First to produce over a hundred shows at the Melbourne Town Hall.
53. First to take his major productions to other State venues under the Melbourne Council and the State Government banners.
54. Composed 5 Ballets and ten Musical Comedies, free, as a gift to the people.
55. Nominated for Australian of the Year twice.
56. Comperes 7 Crucifixion reenactments.
57. Humourversity names the King Crawford comedy collection of recorded humour.
58. Wrote the first chronological history of Australia.
59. Wrote, produced and composed the world's first Country music Gospel Opera.
60. First to turn Australia's classic books into musicals. Wrote librettos, produced and composed the material.
61. Produced 2000 piece Brass Band.
62. Exact replica of the Horse of Troy recreated for Greek Day.
63. Designed amphitheatre in the Fitzroy Gardens.
64. Redesigned the Queen Victoria Gardens into a statuary area starting with the Pathfinder and the Phoenix.
65. Created first annual United Nations Day festivities.
66. Was made a sponsor for the United Nations.
67. Conducted first lecture tour of New Zealand as guest of the Government lecturing on Community Art.
68. Set up wrote and produced.Australia's first Teddy Bears Picnic and first open air version on ice.
69. Established Victoria's first major independent record company.
70. Broke the monopoly of the multi nationals. Fought for equality for artists.
71. Fostered 8 record labels. Collectors around the world seek his labels, especially Planet and Talent City.
72. Planet, the first Australian co. to be pressed overseas under its own label.
73. Sought to establish Australia's first unification flag.
74. Became the first Superintendent of Arts for a city and changed the city's image to one of a 'living city'.
75. Created the first Australian community television station (Debney Park Channel 10) and the first cable television station in Australia.
76. Staged seven one man painting exhibitions including The History of Australia in Oil.
77. Key Speaker at international events.
78. Produced first major musical comedy live-in-the-theatre album.
79. Designed 34 festival flags, costumes, sets, plays, marches and numerous musical themes.
80. Served for 15 years on foremost official committees to promote the Nation and 8 Premier's committees to promote awareness of our heritage in different areas.
81. Co-wrote potential new Australian anthem. This has been played in 28 countries around the world and stops the show wherever performed.
82. Voice history of his life is recorded by the National Sound and Film archives and also The Bush Balladeers Association.
83. Acted as straight man to stars. Acting, Clown in trio, star in pantomimes, producer, director, administrator, salesman, casting director, stand up comedy, P. R. First Australian composer on paper records and numerous firsts in all sizes of vinyl L.P's.
84. Career began at 5.
85. Created the first Ballroom Arts Council. Forms King Crawford Quintette for touring and concert work.
86. Became Vice President of the Musicians Union.
87. Wrote and produced numerous re-enactments including Australian history.
88. Chairman of 'Salute to Australia" the Premiers !st Australia day festival and forerunner to Victoria's Australia Day committee.
89. Served for ten and a half years on the Victorian Australia Day committee and under five Premiers.
90. Musicians' choice at the Dallas Brook s concerts .
91. 40s Musicians dub him the King.
92. Writes over a 100 National Television shows.
93. Wins Snow White War.
94. Stages first public drawing of the Melbourne Cup Barrier positions.
95. Winner of the Pleasure Gardens concept.
96. Stages numerous city marches for festivals and visiting dignitaries.
97. Helps Stage World Scots Games.
98. Stages opening and closing of the World Bowls.
99. Entertainment of the visit of the Pope Venues at M.C.G. and Flemington.
100. Narrater "War of the Worlds".
101. Opening and closing of the World Hockey.
102. Is given State receptions for his projects.
103. Helps stage original Football and Melbourne Cup marches.
104. Worked in various positions with Eartha Kitt, Shirley Bassey, Jimmy Edwards, Gene Krupa, Miss Universe and Miss Australian Universe, Douglas Fairbanks Junior.
105. Stands for Lord Mayor of Melbourne
etc. etc. etc.